from
undercover_dork
You Are Belle!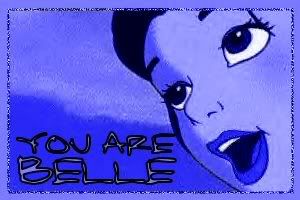 Intelligent and kind. Your beauty goes much further than your apperance. Also, you make judgements of people based on their personality and not their looks. Attaining all the knowledge that you can is one of your major goals in life, but you are also a person who can make things happen.
Which Disney Princess Are You?
he he I am not fond of of this Disney film but I like Belle, she's not a shallow character as some other Disney heroins are. But I think I would rather be Alice, a curious and dreamer girl who lives in dreams.
Ok... she is not a princess. But Am I a princess myself?